Following successful early stage funding (seed investment & ERDF grants) we are now seeking further investment to take the Company through final development, clinical trials and to full commercialisation of the three primary products.
Please take a look at the following video which will give you an outline of the business, the system and what investment is required which will have an affect on Orthotics as we know them today.
Just click on the picture…..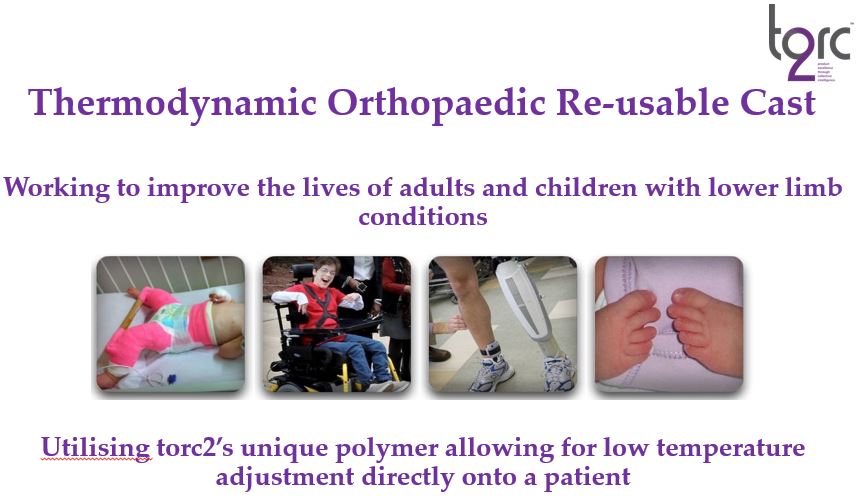 Interested??
The ethos behind the establishment of the business is the replacement of long practised methods of splint and cast production by a technologically advanced system to improve the lives of children with walking difficulties and to gain a significant share of the multi-million pound Medical Devices market.
Seed investment together with social enterprise loan funding (based on the perceived social impact of the business) has been used to develop the concept, to apply for patents and to leverage an ERDF/CUE Innovation Grant for early handbuilt prototypes. These prototypes confirm the key values that enable the material to function as an easily remouldable alternative to conventional plaster of Paris, irreversible resin compounds and high temperature thermoplastics sheet materials.
Now the Company is making equity available to provide funding for the completion of the commercialisation phase across the three primary products. One early bird investor has already taken up this offer.
We have an SEIS (Seed Enterprise Investment Scheme) certificate from HMRC in place which allows the investor to claim back up to 50% percent of their investment by way of tax relief.
This scheme does preclude the sale of the shares for a minimum of 3 years as the relief is conditional on the investment staying in place for this period. As an additional incentive the tax office will not require CGT (Capital Gains Tax) on the sale of the shares after this time period has elapsed.
Once our SEIS allowance has been used up the older EIS allowance will then apply which offers 30% tax relief on the amount invested under the same conditions.
The view of the Board in terms of an exit strategy is that the Company would look for a flotation or sale in 3-5 years depending on the state of the market and the Company's performance ratios.
If you are interested in this exciting opportunity please either email gary@torc2.com or complete the following form.
Here are other videos ….